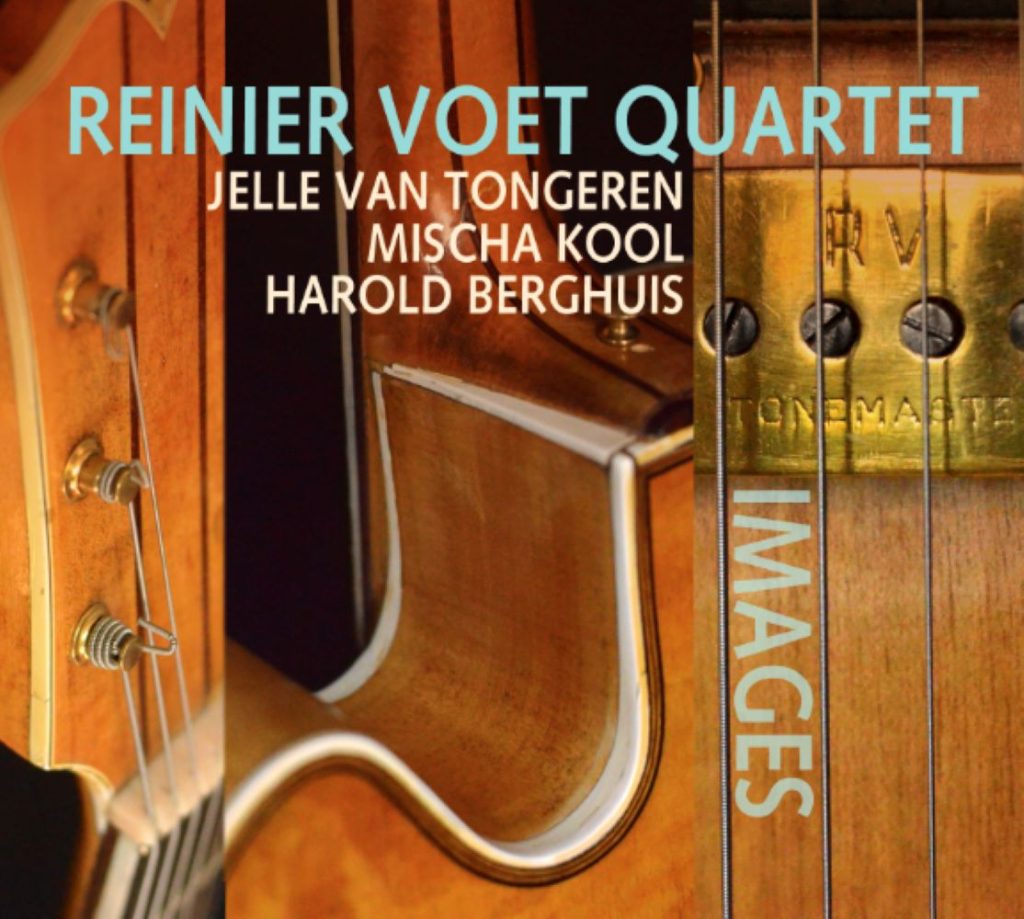 Cover by Fiel van der Veen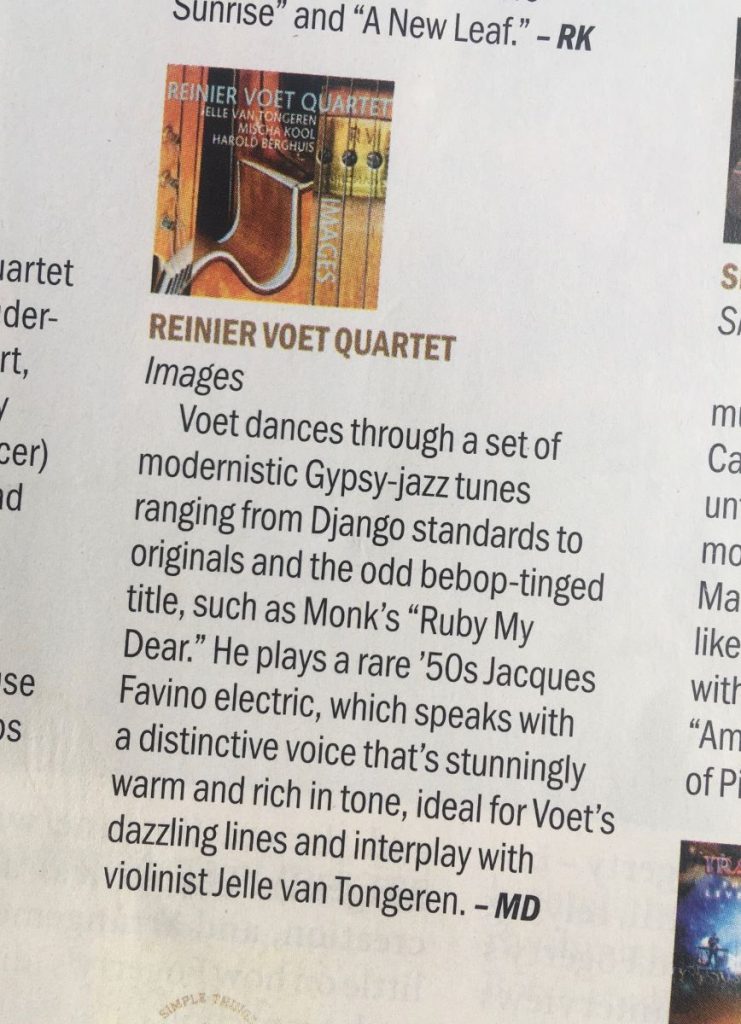 Vintage Guitar (by Michael Dregni)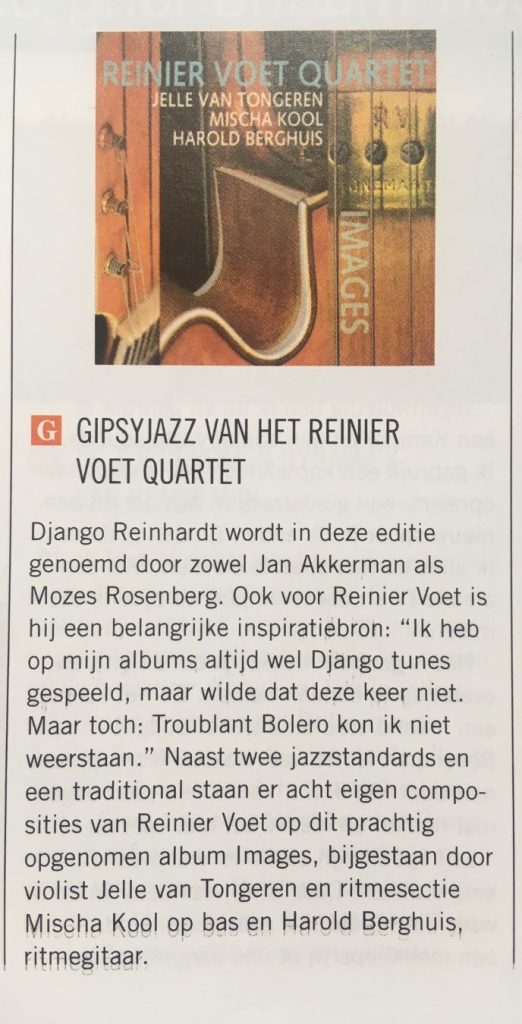 Magazine De Gitarist

Ton Ouwehand in Jazz Bulletin
A premiere from the Reinier Voet Quartet: the disc 'IMAGES'
Amsterdam, July 2022 – Dutch jazz guitarist Reinier Voet (1962) presents his new quartet with his new album 'IMAGES'. On this new album, the guitarist, who until now was best known for his gipsy jazz style, takes a new path with his own compositions and arrangements. Apart from Voet, the quartet is made up of musicians also known in jazz: Jelle van Tongeren (violin), Mischa Kool (double bass), and Harold Berghuis (rhythm guitar).
Since he started playing, Reinier Voet has been inspired by the great protagonist of gipsy jazz, Django Reinhardt. But gradually he was also inspired by so many others, the most contemporary, like Boulou Ferré, Bireli Lagrene, Philip Cathérine, and Christian Escoudé, without forgetting the big names from the United States: Jim Hall, Jimmy Raney, and Pat Martino.
Now, with his new group, simply named the 'Reinier Voet Quartet', he distances himself from gipsy jazz without losing the link with his great inspiration, Django Reinhardt, and his 'disciples' of today and the past. Although the band has a traditional line-up with lead guitar, violin, rhythm guitar, and double bass, the musicians' roles are freer. The style is more 'jazz', more contemporary, and more personal. This new sound also comes from the fact that most of this new disc, 'IMAGES', consists of new compositions by Reinier. In addition, he is accompanied by musicians unrelated to the gipsy style. The talented violinist Jelle van Tongeren, for example, has a style of improvisation that is more inspired by Jean-Luc Ponty or Sonny Rollins than by the playing of Stéphane Grappelli. On this disc, apart from quartet pieces, there are also pieces played solo, in duets, and in trios.
After listening to 'IMAGES', the journalist Francis Couvreux confided to Reinier: "A CD which bears its name 'IMAGES' aptly, because here we have peaceful music that establishes a climate, an atmosphere, provoking images that invite us to daydreaming; …no gipsy jazz here, but 'Reinier Music' with a beautiful guitar sound and phrasing similar to that of Philip Cathérine…"
Une première du Reinier Voet Quartet : le disque 'IMAGES'
Amsterdam, juillet 2022 – Le guitariste Hollandais de jazz Reinier Voet (1962) présente son nouveau quartet avec son nouvel album 'IMAGES'. Sur ce nouveau disque le guitariste, qui jusqu'à maintenant est plutôt connu pour son style de jazz manouche, prend un nouveau chemin avec ses propres compositions et arrangements. A part de Voet, le quatuor est composé des musiciens également connus dans le jazz : Jelle van Tongeren (violon), Mischa Kool (contrebasse) et Harold Berghuis (guitare rythmique).
Depuis qu'il a commencé de jouer, Reinier Voet a été inspiré par le grand protagoniste du gypsy jazz Django Reinhardt. Mais progressivement il s'est également inspiré par tant d'autres, des plus contemporains, comme Boulou Ferré, Bireli Lagrene, Philip Cathérine, Christian Escoudé, sans oublier les grands noms des États Unis : Jim Hall, Jimmy Raney et Pat Martino.
Maintenant, avec son nouveau groupe, simplement nommé le 'Reinier Voet Quartet', il prend distance du jazz manouche, sans perdre le lien avec son grand inspirateur Django Reinhardt et ses 'disciples' d'aujourd'hui et du passé. Bien que le groupe ait un line-up traditionnel avec solo guitare, violon, guitare rythmique et contrebasse, les rôles des musiciens sont plus libres. Le style est plus 'jazz', plus contemporain et plus personnel. Ce nouveau son vient aussi du fait que la plupart de ce disque nouveau, 'IMAGES', consiste de nouvelles compositions de Reinier. En plus, il est accompagné par des musiciens sans rapport avec le style manouche. Le talentueux violoniste Jelle van Tongeren a par example un style d'improvisation qui est plutôt inspiré par Jean-Luc Ponty ou Sonny Rollins que par le jeu de Stéphane Grappelli. Sur ce disque il y a à part des morceaux en quartette, aussi des pièces jouées solo, en duo et en trio.
Après avoir écouté 'IMAGES', le journaliste Francis Couvreux confiait à Reinier: « Un cd qui porte bien son nom 'IMAGES', car on a bien ici une musique apaisée qui instaure, un climat, une atmosphère, provoquant des images qui invitent à la rêverie; … pas de gypsy jazz ici mais la 'Reinier Music' avec un beau son de guitare et un phrasé cousin de celui de Philip Cathérine… »
Recorded in 2021, ready in 2022 and presented on May 10th 2023, in café Kapitein Zeppos: