Reinier Voet (Amsterdam, 1962) studied jazz guitar in Amsterdam and at the Royal Conservatoire in The Hague, Holland. His teacher was the renowned jazz guitarist Peter Nieuwerf. A central source of inspiration for Reinier's playing is Django Reinhardt, while contemporary guitarists like Jim Hall, Jimmy Raney, Pat Martino, and the Frenchman Boulou Ferré, as well as Eastern European (gypsy) music have also been big influences. After finishing his studies, Reinier worked mainly in the gipsy jazz scene. Besides his own groups (including the long-standing Cravat Quartet with violinist Hady Mouallem), he has worked with famed gypsy guitarists such as Jimmy Rosenberg and Fapy Lafertin, klezmer clarinettist Marcel Salomon, and the Dutch writer, painter, sculptor, and violinist Armando. Reinier also worked with the Flemish music-theatre company Het Muziek LOD together with bandoneonist and composer Dick van der Harst.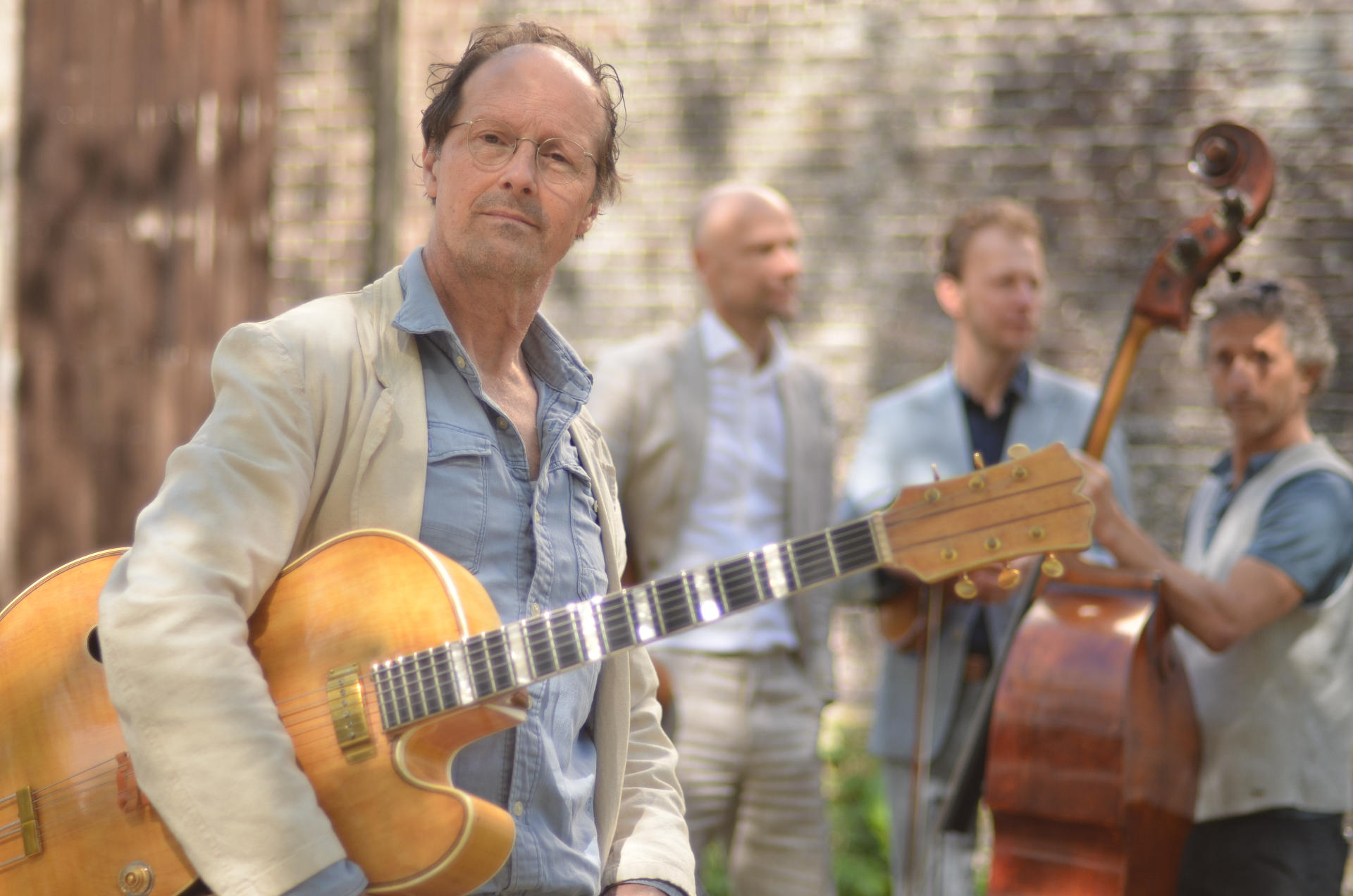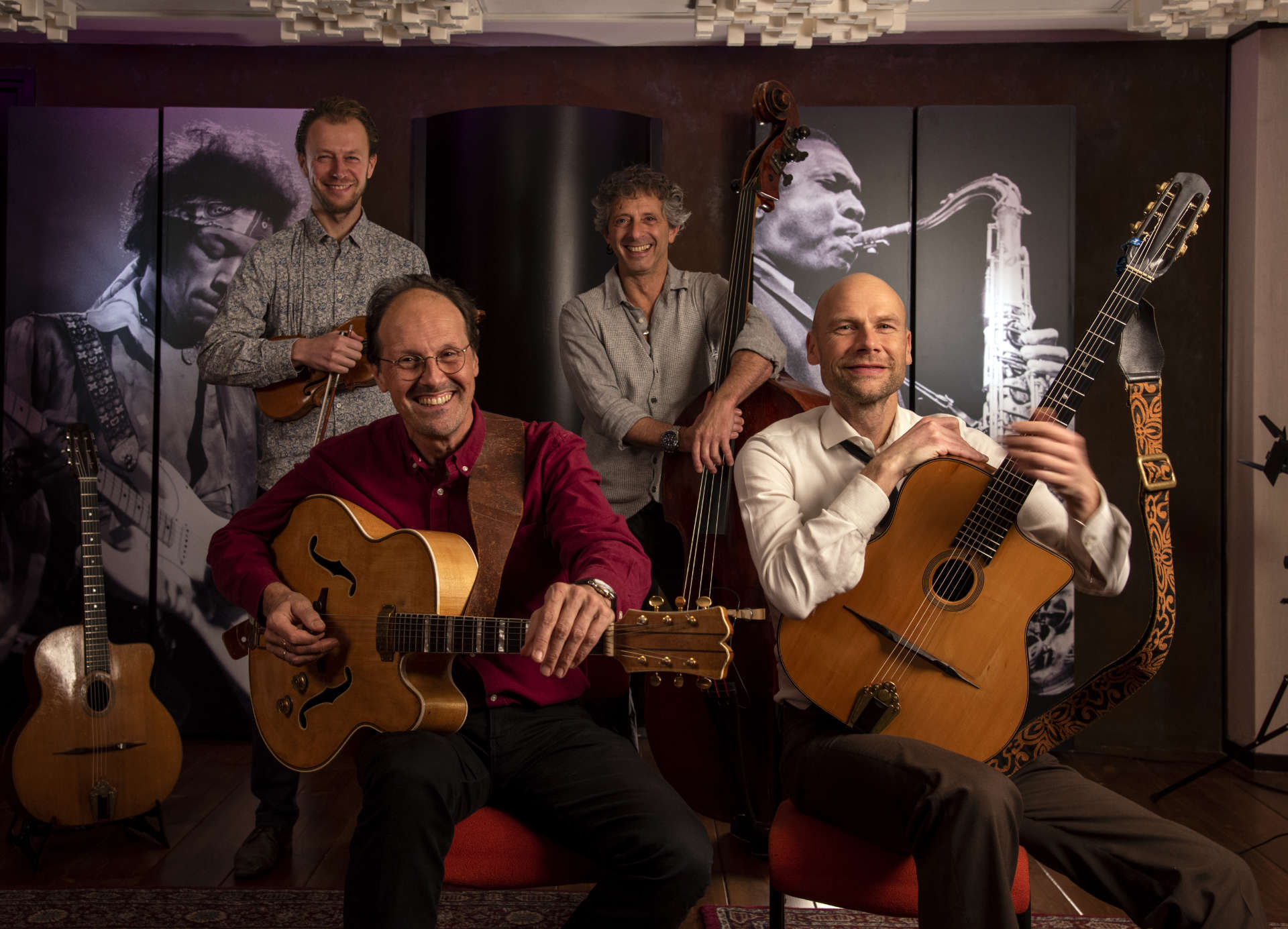 Gypsy Jazz Live
Reinier's latest project is The Reinier Voet Quartet, featuring Jelle van Tongeren on violin, Mischa Kool on double bass, and Harold Berghuis on rhythm guitar. They released their first album, IMAGES, in 2022, bringing a new, more jazzy sound. Most of the songs on this album were written by Reinier Voet himself. Only a few Django compositions and other (jazz) repertoire are added. See also 'Gypsy Jazz Live'.
The oldest and still-performing band Reinier began is 'Reinier Voet and Pigalle44′, which he runs together with rhythm guitarist Jan Brouwer. Together, they have already published seven CD's, while they feature on various compilation CDs from Norway (Hot Club Records) and France (Djaz Records and the Wagram Gypsy Jazz Anthologies). On their CD 'Mistral' (a composition by Joseph Reinhardt!) they were joined by Rob Stoop (accordion), Olaf Hoeks (tenor sax), and Arnoud van den Berg (double bass) in a quintet line up. On the CD 'My Room', violinist Jelle van Tongeren joins in. 
Pigalle44 performed at many festivals, including the Django Reinhardt Festival in Samois-sur-Seine (2004) and the Gypsy jazz Festival in New Caledonia (2005). They did a tour in Indonesia (2009) with Hermine Deurloo (harmonica/soprano sax) and travelled to the USA with Gert Wantenaar (accordion) to perform at the Django Fest in Mill Valley (San Francisco). They taught at the Django in June Django Gipsy Swing workshop week in Northampton and performed (with Jelle van Tongeren on violin) during the Midwest Django Fest in Madison. 
Reinier appeared at several festivals in Norway (Oslo Django Festival, with Hady Mouallem), England (with Reinier Voet & Pigalle44 at the Gypsy Jazz Guitar Festival in Gossington), Germany (Augsburg Django Memorial Festival), Belgium (Gent, Brussels), and France (Paris, Samois-sur-Seine, Les Nuits de la Guitare, Corsica).
As a sideman, he features on several CD's, including albums by gypsy guitarists Fapy Lafertin and Jimmy Rosenberg and Klezmer clarinettist Marcel Salomon.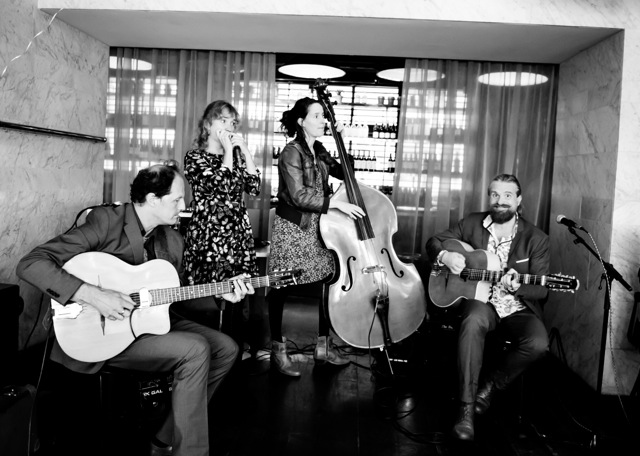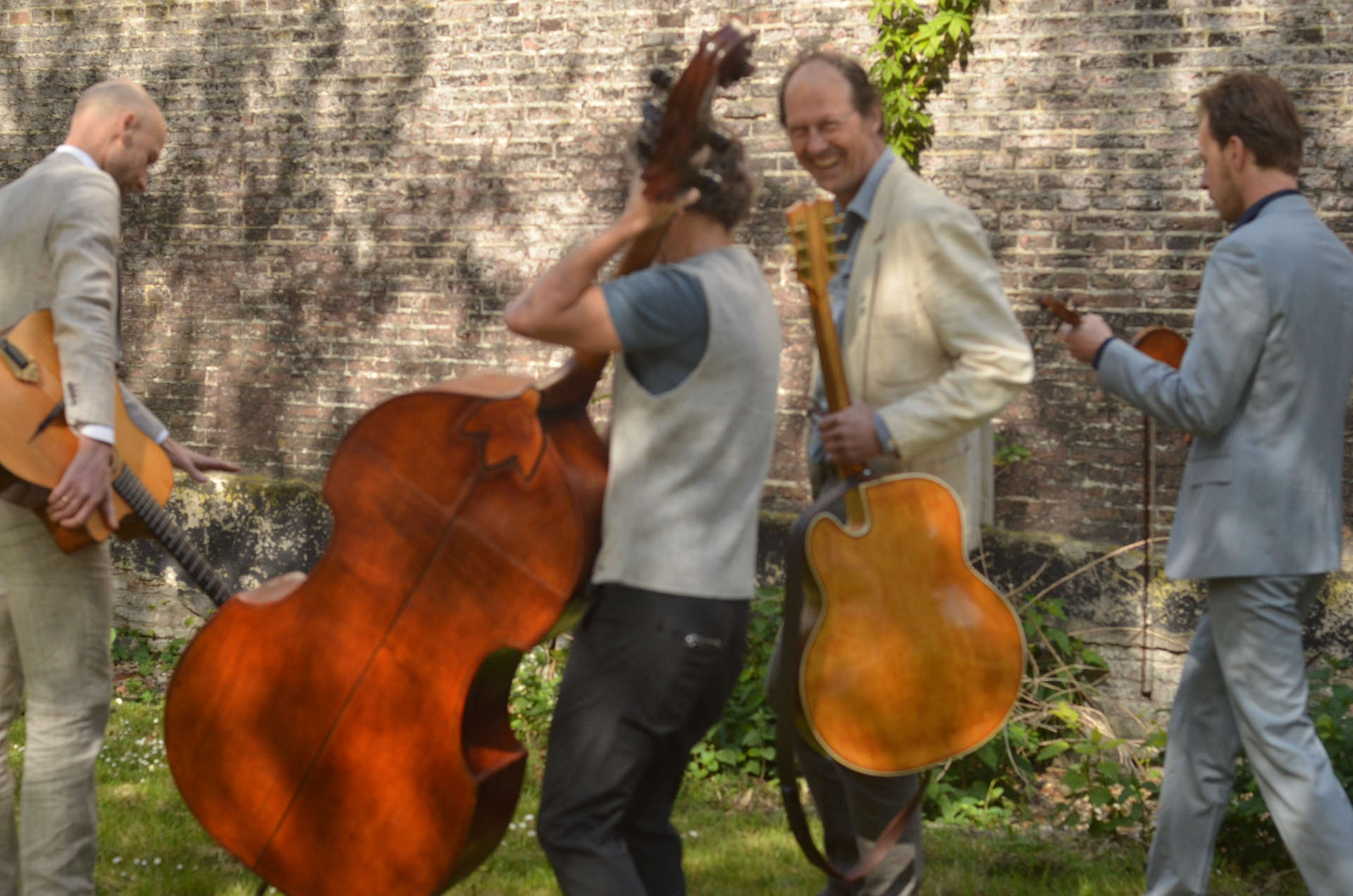 Reinier has played with…
Fapy Lafertin, Jimmy Rosenberg, Jan Brouwer, Gert Wantenaar, Jelle van Tongeren, Hermine Deurloo, Stochelo Rosenberg, Dick van der Harst, group 'Het Muziek LOD', singer Nannette Currie, Tscha Limberger, Marcel Salomon, Rob Stoop, Olaf Hoeks, Martien Oster, Robin Nolan, Michiel Weidner, Tim Kliphuis, Hady Mouallem, Henk de Geus, Frank Meester, Jan de Jong, Simon Planting, Scott Hamilton, Joop van Deuren, Han Brink, Sander Hoving, Anti von Klewitz, Meinrad Kneer, singer Jette van der Meij, singer Lenny Kuhr, singer Guido Belcanto, singer Dorine Niezing, Koen de Cauter, writer/artist Armando, Spiegle Willcox, Adrie Braat…